I am planning to completely revamp my Etsy store, Alchera, this summer. This includes a totally new line of products! Which means the old products just gotta go. So most of them are on for 50% or more off! I'll slowly be adding more clearance items over the next day or so.
So, if you're interested, it's there! I also totally accept trades, be it original art, prints, jewelry, books, pagan objects...you name it! :D
I feel bad for advertising this here, but I know some of y'all actually like my work, and I wanted to let you know what's going on. :3
That being said, I've started to list my major destashing. It primarily consists of jewelry lots, but there's other stuff too. Imma post it here in case anyone is interested:
I hate listing things online. It's so time consuming and boring. -_-
NOTE: This post is PUBLIC!
So, I'm going through one of my weeding-through-possessions frenzies that I sometimes go through. This time I seem to have tackled my religious, spiritual, magical, and occult items. Since I know some of ya'll are interested and that sort of thing (me too of course!) I thought I'd post what I'm getting rid of. So if you or anyone you know is interested in any of this, let me know!
Also, keeping costs down as much as possible (a few of the books are collector's items, or textbooks required for my religion degree). Combining shipping. And I am
TOTALLY BARTER FRIENDLY
. I love handmade goods, especially ritual stuff, as well as books, jewelry, and art supplies. Really. Feel free to offer anything.
Shipping isn't included. The stuff that's labeled as free, you still have to pay shipping on. Sorry you guys. D: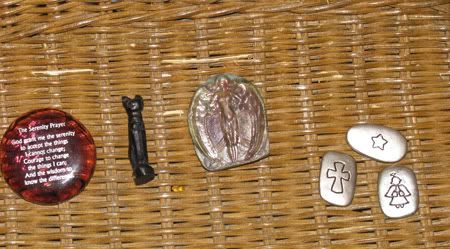 (
Books, Candles, Oils, Tarot, and More...
Collapse
)


He's been following me around since I got home. We put him in our backyard while we put up a couple signs, but he promptly jumped out once he couldn't see us anymore.

We don't have him, but I can tell you the last place we saw him, and he's been stalking the area for four-five hours now. Let me know, please!
Has anyone been looking for a rather large, male, neutered black lab in the southwest Fort Worth area?


I removed you due to inactivity; either I didn't see posts from you recently, or I haven't communicated with you recently. You did nothing wrong, I'm not mad, or anything like that.

If you want to give it another go, let me know, and I'll add you back on!
I just did a massive Purging from my friends list. If you were removed on January 31st, 2010, don't fret!


I'm wanting to print some books using them, but I want to know how their reproduction quality of images is. I want to add illustrations in black and white, but don't know if they can print gradation well, or if images turn out fuzzy at all!

Anyone know?
Have any of ya'll used the self-publishing service Lulu before?


Do any of you know if they make them in 12 x 12 inch size, or where I could find them? D:
So. You know those photo albums whose pages are like thick cardstock, with a thin sheet of acetate or plastic that you lift up to reveal those diagonal lines of sticky stuff that grips the photos? So you can arrange the photos however you want and they stay?
Current Mood:

curious